Why using certified EHR technology is important?
To participate in the Merit-based Incentive Payment System (MIPS) or the Meaningful Use (MU) program, an eligible professional must use EHR technology that has been certified per regulations put forth by the Office of the National Coordinator for Health IT (ONC). ONC recognizes a number of Authorized Certification Bodies (known as ONC-ACBs) eligible to certify that an EHR system or module offers the necessary technological capability, functionality, and security to help eligible providers meet the program criteria.
ONC-ACBs include: ICSA Labs, Drummond Group, and InfoGard Laboratories. Once an ONC-ACB certifies a product, ONC reviews the certification and posts the product in the Certified Health IT Product List (CHPL) on the ONC website.
Using an ONC-ACB certified product gives providers and patients confidence that the health IT products and systems they use are storing their data securely, maintaining confidentiality and are able to share information with other systems.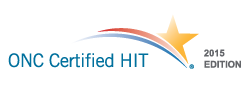 USMON is an ONC 2015 Edition compliant EHR that has been certified by ICSA Labs in accordance with the applicable certification criteria adopted by the Secretary of Health and Human Services. This certification does not represent an endorsement by the U.S. Department of Health and Human Services.
Vendor name: US Monitoring, Inc. (USMON)
Date Certified: March 2, 2018
Product Name and Version: USMON - Medical Workflow System, v13.001007
ONC-ACB Certification ID: 180001R00
Modules Tested and Certified:
170.315(d)(1) 170.315(d)(2) 170.315(d)(3) 170.315(d)(4) 170.315(d)(5) 170.315(d)(6) 170.315(d)(7) 170.315(d)(8) 1170.315(g)(4) 170.315(g)(5)
Additional Software Required:
None
Price Transparency Statement:
There is no additional fee associated with ONC certified features of USMON including those features required to successfully attest for meaningful use.
Limitations:
There are no known limitations that a user may encounter in the course of implementing and using this Health IT Module's capabilities, whether to meet meaningful use objectives and measures or to achieve any other use within the scope of the health IT's certification.